Posted by Tiffany Meek on 14th Jul 2023
With all the animals loaded up it was time to head out. What was I forgetting to bring with me? My brain wouldn't function at this point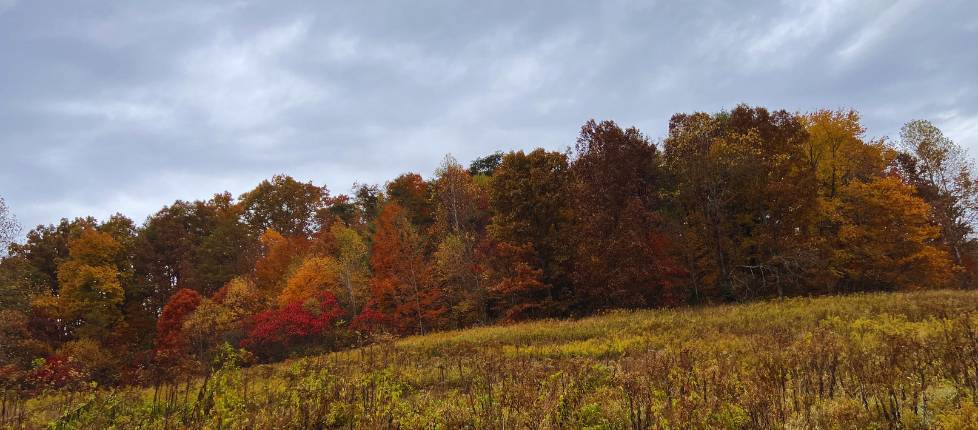 Our big journey home. Push yourself to do the impossible
Author Tiffany Meek / Published: Jul-15-2023
With all the animals loaded up it was time to head out. What was I forgetting to bring with me? My brain wouldn't function at this point so I figured as long as I had the animal feed and a supply of water anything else could be replaced. I didn't really give myself time to look back and savor that moment as my worry and anxiety were now focused on my animals and how they would make the long journey home. The first leg of our trip would get us into Nevada and I hoped after today I would start to feel more comfortable hauling the animals. I caught myself many times holding on to the steering wheel in a death grip and my hands hurting before I realized I needed to try and relax or I would never make the 3000 mile journey home. We had originally planned to make it all the way to Elko Neveda that first day but with a late start that was going to be too far of a drive to make it in the daylight hours. I think I did fairly well that first day considering we had some mountan roads and hills that gave me alot of anxiety. We stopped to check on the animals every few hours and my cats were very yowly that first day. The goats also were not all that impressed with riding in a trailer for so long. They had evacuated the farm a few times due to fires but nothing like this ride. Jax and Sid( My parrot) were the only two that seemed to be enjoying the ride. I have had Sid for 25 years and for a spell he even went to work with me so he was no stranger to riding in the car. He seemed to be enjoying his roll as co pilot and even played with his toys and ate as if this was an ordinary day. When we pulled into our first hotel it had been 8 hours of driving. The sun was setting and I knew I needed to crawl into the back of the trailer to make sure the goats and cats were fed and had plenty of water. James helped me lower the ramp and we had a tray that was wedged in on the ramp when it was up to stop any wind from blowing in on the cats. They could choose to watch the world go by or hide it was up to them. However my brain was tired and I ended up just laying this plastic tray on the ramp itself. I had to climb in over the hay squeeze between all the feed to take care of the animals so when I came back out I wasn't watching where my feet would land. I didn't even think this body could do the splits but life is full of surprises. As my one foot started to slide I had nothing really to grab on to and the tray just kept moving further down the ramp with my leg until I was full on doing the splits. James was to far away to really help and no he did not get this on camera although he kinda wishes he did. He did rush in to help me up and we both burst out in laughter. I felt no pain at the time but I knew by tomorrow I would be feeling that. We were able to set up a baby monitor in the back of the trailer so we could monitor the animals from our room. I wasn't sure if the hotel would allow Sid and didn't want to take my chances incase they denied us a room. So I paid extra for Jax and snuck Sid in the back and put him to sleep in the closet as he was tuckered out anyway after a full day of driving. That night we walked over to a really amazing noodle place and they let us eat outside with Jax.
In the morning we grabbed some hotel breakfast and Sid got to come out of the closet and share a bagel with me. It was time to get back on the road and this time we had an early start. I went down at first light and fed the animals giving them a little time to eat before we headed out. We had made it to Battle Mountain Nevada that first day and our plans were to make it as far as Rock Springs Wyoming by day two. So far the roads had been pretty decent but we started to hit alot of road construction and that made the drive a little hard. We also had to drive straight through Salt Lake City and I was trying not to focus on that as it gave me extra anxiety. That second day the cats seemed to have settled down alot and I had plenty of natural sedatives and fresh catnip that my sister supplied for the trip. The goats were complaining a little but seemed to be eating a drinking ok. Staying awake for the drive wasn't a problem as I had a little battle going on in the front seat. Sid was determined to get a bite in on Jax who kept stretching out putting his paws to close to the bars of Sids travel cage. He also decided that he would much rather travel outside of the cage and was working on breaking out half the time. When we stopped for gas we let Jax out to stretch and made sure all the animals were doing ok. I had to buy parrot approved snacks for the trip as Sid was insisting I had to share all the road food. I remember being extremly tired when we pulled into Rock Springs Wyoming. As I walked from the parking lot to check in my legs almost turned to Jelly and I felt as though they might not make the walk. I do not think I stretched them enough that day and vowed to do a little better tomorrow. This time I was careful not to do the splits and we were able to walk and pick up some food to bring back to the hotel. At this point it was feeling like things were going pretty good and I felt like I had this whole trailer thing down and we would make it to Kentucky.
That next morning we set our sites on Nebreska and I had been checking forcasts and it appeared as though we would be dodging a few storms but should make it out of there before anything really big hit us. Well we pushed ourselves and drove a little over 8 hours again that day and pulled into a Comfort Inn right off the Hwy in Gothenburg Nebreska. I really liked this place as we were able to have our animals right near our room and it was quiet and they seemed to appreciate this small town. We were able to get this incredible prime rib dinner as well. I think that was the best night of sleep I got on our whole journey. We got up before it was light I had the animals all fed so we would be ready to take off at day break and get a jump on the day. I was in really good spirits that morning feeling happy and ready to conquer the day. When we were ready to go James did his checks and realized at some point the moving truck had dumped all its oil into the parking lot. My heart sank as I started to realize this day wasn't go to go as we had hoped. I tried to stay positive mentioning check out time wasn't until 11am and this hotel was super comfy so we got a call in about the truck and we watched tv and we waited and waited. James was able to get some oil and fill the truck back up he thought it was just a cap that was not put back on correct. When he finally got a call back they talked with him and wanted him to drive an hour to the town with a mechanic in order to have it looked over. It was either that or they would get someone out later that day. We opted to try and get the truck to the service station.
My mood had been so poitive but it soon came crashing down on me. Because of the delay that morning the storm I thought we would avoid was bearing down on us. This was not some little rainstorm this was rain so hard your wipers could not keep up. I had to drive slow and semi trucks kept flying by me splashing water on me and my animals. The service station they sent us to was way off the Hwy on this tiny dirt road that was starting to flood. I was crying at this point I was worried about my animals being wet and me crashing on the Hwy it was a mess. We finally got the truck fixed as it was just an oil cap that had not been secured correctly. The storm was not letting up though but if we could just make it an hour further down the road we would be out of it. In all this chaos I had forgot to fuel up and realized we needed to find a gas station quick and with that added stress I lost it. James and I always had our phones on speaker phone thoughout this whole trip comminicating and keeping each other awake. At this point he was trying to keep me together but I was crying and saying I was done this was as far as I was going. So what were we going to do now live in Nebresaka? Yep find a place to stay I am not driving any longer I can't do it. The roads were slippery and wet and the forecast wasn't going to be letting up where we were anytime soon. After we gassed the vehicles up James encouraged me to go a little farther to try and break out of this storm. I was in a foul mood at this point but driving on seemed like all we could do so I did it. Sometimes when you feel like giving up if you just push yourself a little further the clouds will pass and the sun will come out again. Not an hour down the road thats just what happened so we kept driving to try and make up the time we lost.
We still managed to somehow drive close to 9 hours the day we left Nebreska and tired can not even begin to describe how we felt that evening. I really wanted to press on though as we tried to make it to Columbia Missouri. We were having a battle with the sun though and it was going down so fast. We were both having trouble seeing and decided to try the small town before it a town called Boonville. It was small and shady though and when we pulled into one of the only hotels around I didn't feel safe leaving my animals in this parking lot. We were trying not to argue at this point but after this long day we were both starving and extremly tired. James had been following behind me the entire trip but we decided I would follow him to the next town and stay in Columbia a much bigger town with better hotels. I still remember that 15 mile journey as it was scary and so stressful with all the road work I had a very hard time seeing where I was going. We made it though and it took a little driving around before we pulled up to this giant Holiday Inn but it was lit up and staffed 24/7. I was able to park the animals right at there front doors and I didn't care what it cost at this point just please give me a room this was our last nights stay before arriving home tomorrow. At this point it was already close to 10pm and our only dinner options were delivery. The way the hotel was set up the delivery guy had a hard time getting to our room and ended up leaving it in the hallway and it was stolen. I was so exhausted this made me cry and I cried my eyes out for the second time that day. James ended up going down and talking to the front desk and they got it all sorted out and redelivered our meal. I could barely eat at this point but managed to eat a little and crawl into bed so I could put this day behind me.
We were up early that final day in the hopes we could make it home that evening. We still had an 8 hour day of driving to do and that didn't include stops. All the animals were looking a bit done at this point. They seemed to look at me like is this our life now? I just wanted to get them out of the trailer and into their new barn. It was around Noon when we stopped for gas and snacks and I checked on the goats and the way Boots was laying down scared me. I remember having great anxiety for many miles that day worrying about if he was going to be ok. I just kept saying prayers for him and thankfully he was just fine. I think he was just done with riding in that trailer. The day before had been extremly stressful as we had also driven straight through Kansas City and I was trying to put that behind me but today we would conquer Saint Luis and that seemed just as scary. The traffic was insane and I really dont know how we made it all those miles. This was the final home stretch though so we just needed to push ourselves a little farther.
I remember pulling into a gas station about 15 miles from home. We were running low on gas and can you imagine running out of gas just miles from home. I excitedly told the animals we are nearly there just a few more miles. It was about 5pm so we still had a little daylight left. As we turned down our street Jax got the biggest smile and knew exactly where we were. I can't explain the joy I felt that I could park the car and not have to drive. We got out and let his Mom know we had arrived safely then James took the trailer up to the barn. We had to pull out the cat cage and hay and feed before we could unload the goats. However Boots was done with being in the trailer and unloaded himself right over the gate. He wasn't going to stray to far from his girls but Potato saw what he did and was trying her best to do the same. So we put it into high gear and got them all unloaded and safely in there stalls inside the barn. They were a little scared and freaked out but happy to be able to move around. All the cats wanted out except Little girl we insisted it was only safe in the cage so I just left the door open. It was such a relief to have them all safely home.
Now it would have been nice to be able to relax for about a week after all that driving but we had a day before the moving truck needed to be returned so we needed to unload it. We planned to get that done in the morning and then I would need to follow James in the car to Lexington to return the truck and then I was for sure taking a year off driving. I still can't believe I drove all the way here hauling all my animals. It just goes to show if you really want something you can achieve it even if it seems impossible. The only one holding you back from your dreams is youself.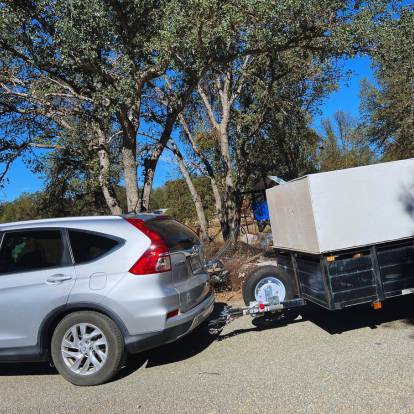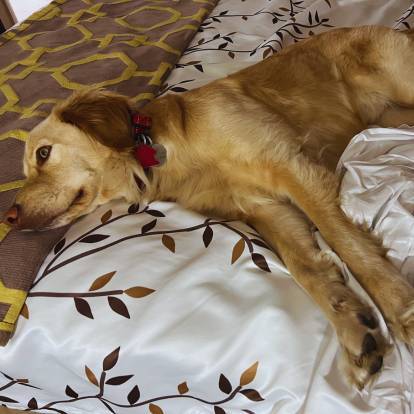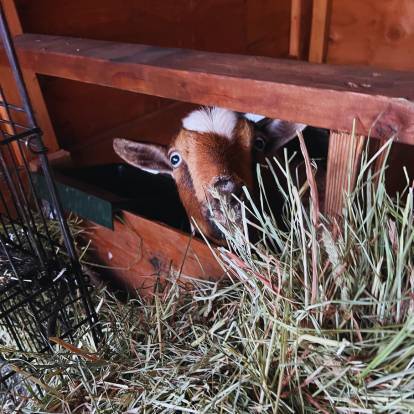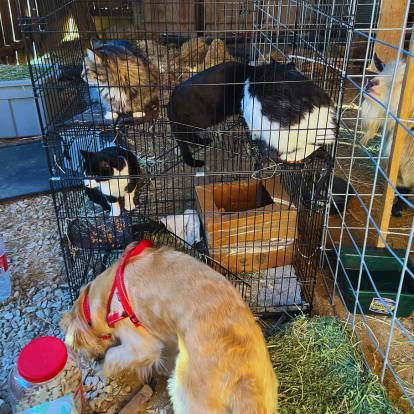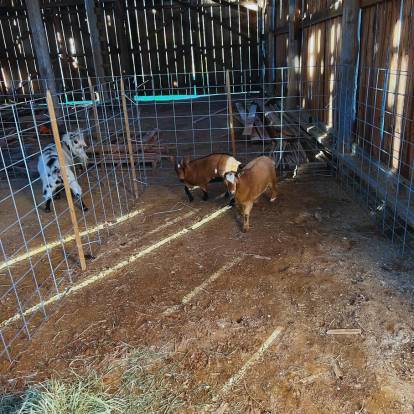 Never focus on how impossible your dreams might seem. Instead take action and make the impossible happen.
Its hard to believe how far we have come and all we had accomplished in one year. Most people thought we were a little crazy but at the same time they were excited that we were following our dreams and making them happen.
I have always been a dreamer but this leap of faith into an unknown place defenitly put me out of my comfort zone. If we just live withen that comfort zone though is that really living? I think if we want big results we need to take big steps and only then can we make the impossible possible.
It was so good to finally be home and now our journey on the farm could finally begin. My next blog will be about our struggles and accomplishments as we get our farm in working order and turn the shed into our new Soap Shack.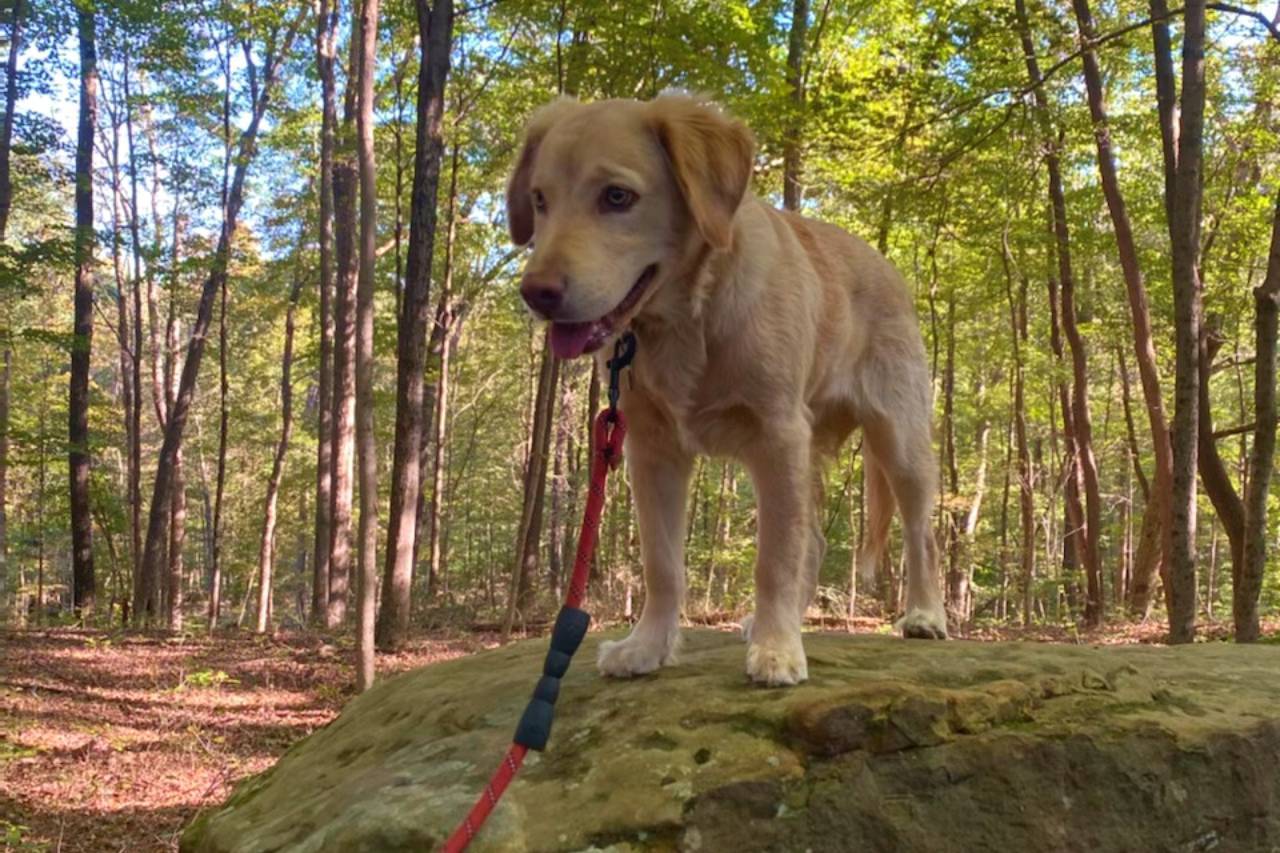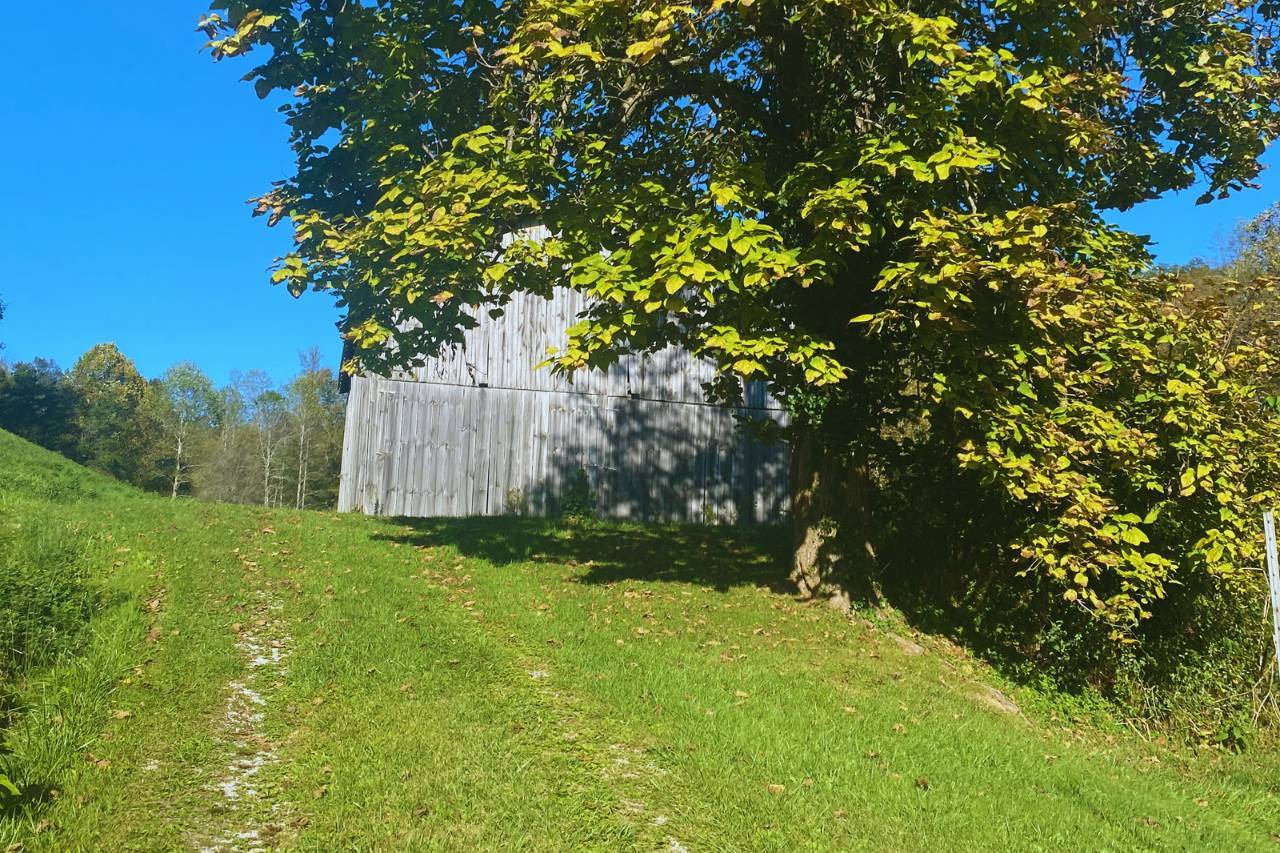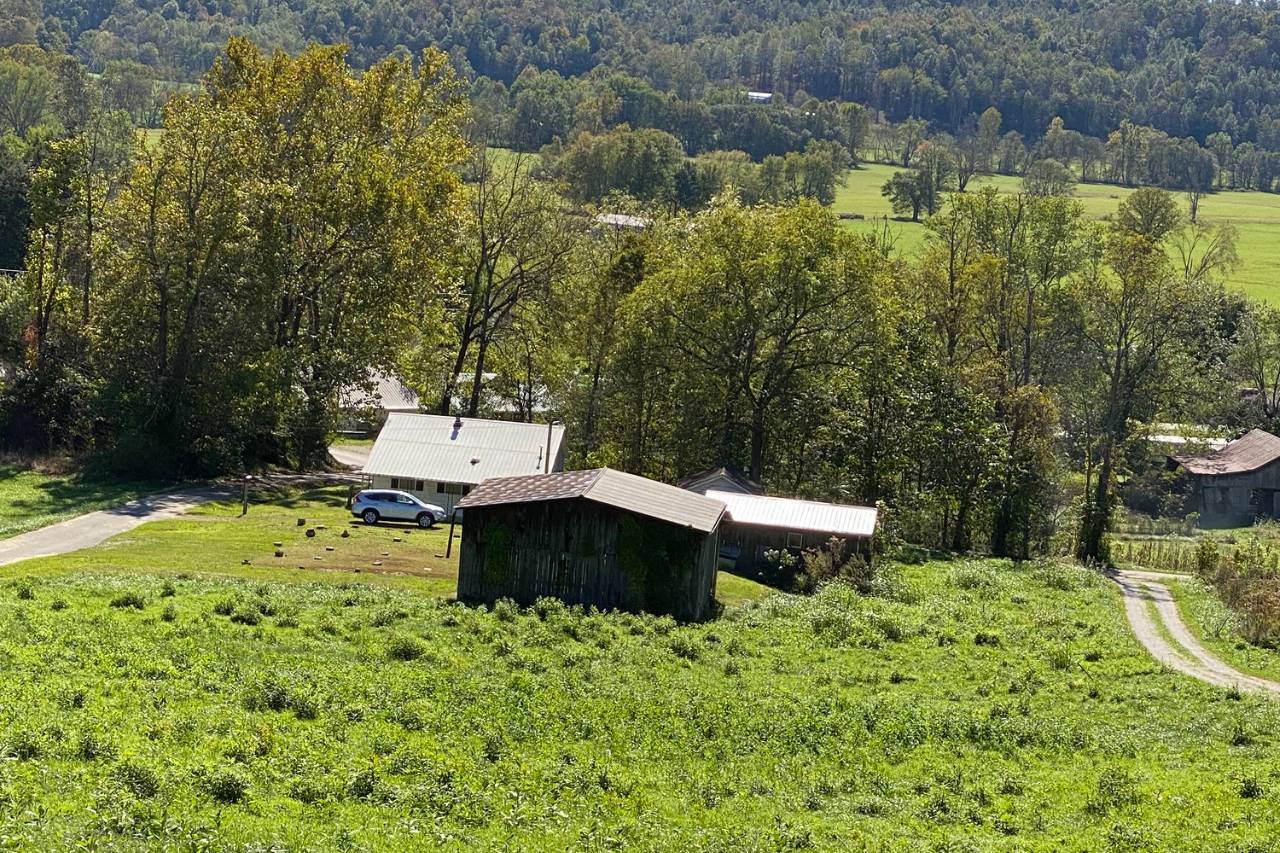 Coming Soon- Our First Winter in Hazel Green KY
Author: Tiffany Meek / Published: July 15, 2023